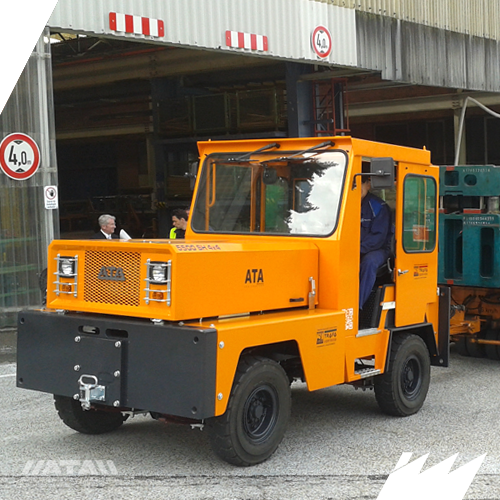 ATA 5500
The ideal choice for towing 40 to 50 tons. Used by countless car manufacturers
Present in nearly every Italian and European car manufacturing plant, as well as in leading heavy-duty metalwork and iron & steel plants. With drawbar pull of 3000 kg, it is the ideal choice for towing 40 to 50 tons. Do you need even more traction? There is also a 4×4 model.
Suspended cab mounted on flexible supports, sliding doors for easy manoeuvring even in tight spaces, sturdy PowerShift transmission and twin wheels at the rear for excellent grip. The 4×4 model, with drawbar pull of 3500 Kg, can also be supplied in a four-wheel steering version, for nimble manoeuvring inside plants and factories.
The ATA 5500 is available in both diesel and LPG versions.
| | |
| --- | --- |
| Draw bar pull | 3000 daN / 3500 daN |
| Engine | Diesel Perkins 36.5 KW |
| Engine opt | LPG GM/IPSI 55 KW |
| Transmission | Powershift |
| Size and weight: L x W x H | 2.900 X 1.640 X 2.100, 4.300 Kg (4.500) |
Alternatively, browse below for other ATA vehicles for industry